Happy 4th birthday KI! Can you believe it's already been 4 years since the launch of the Xbox One console and, therefore, of your favorite fighting game? I guess it's true what they say – time flies when you're having fun!
Speaking of fun, we've had some 2XP weekends in the past but c'mon. This is our 4th birthday! We can do better. So how about some 4XP across all modes? Yep, you heard right! Quad XP for KI through Monday (November 27th)! So if you want to level up, clearly now's your chance. And yes, boosters and VIP stack so go nuts! Enjoy it while it lasts. 🙂
And now the good stuff! This is where you give us presents – I'll wait.
While I wait though, how about we give YOU some presents for being a great community? So, in celebration of our 4th birthday, we've put together a pretty kickass pile of prizes and swag that will be up for grabs. Check it out: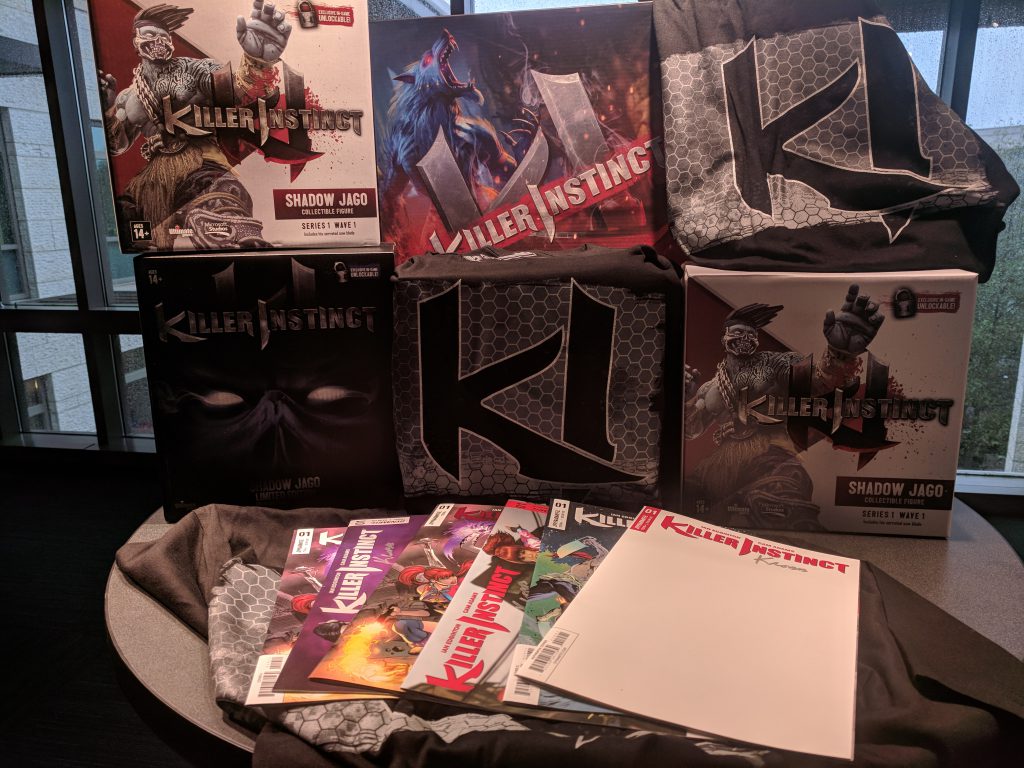 No, not everything is for one person – the wealth will be shared! Just like our Definitive Edition birthday giveaway, this one will require a bit of work on your part. In order to enter the drawing, you have between today (November 22!) and next Friday (December 1st) to earn an achievement in Killer Instinct. This can be on Xbox One, Windows 10, or Steam. Achievements unlocked on November 21st or December 2nd won't count. The winners will be randomly selected from all those who enter the selection by posting on the forums in this thread. (Don't worry, if you're an overachiever and already have every achievement, you can still enter.)
Here's how the prize packs will break down:
Grand prize: Fight Stick, Limited Edition Shadow Jago by Ultimate Source, and t-shirt from Eighty Sixed
Complete set of volume 1 of the Dynamite KI comics signed by the one and only Ken Lobb and a t-shirt
Shadow Jago by Ultimate Source and a t-shirt

3 chances to win this set

Misc t-shirt and comic giveaways
As you can see, we're giving away tons of really awesome stuff. And all you have to do to enter is unlock an achievement and let us know.
I know you're all excited to enter so go on now! FIGHT ON and enjoy the birthday celebrations!
Forum entry thread: https://forums.www.ultra-combo.com/t/kis-4th-birthday-celebration-thread/23286