We talk to Darnell 'sleep" Waller from Detroit, Michigan. He's one of the best players in the tournament scene known for his Kan-Ra, Glacius and Aria play.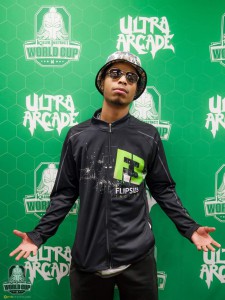 KI tournament history?
1st ever tournament was Frosty Faustings 2015 where I got 1st place. And then Combo Breaker 9th place, CEO 7th, EVO 3rd , Winter Brawl 1st, PGL Tour 1st, Absolute Battles 1st, TFC 1st, Naptown Clutch V 1st, Youmacon 1st, 8bitbeatdown finale 1st, SCR 3rd, NEC 3rd all in 2015. I was fortunate enough to get sponsored by F3 in August 2015.
Favorite Character?
KanRa/Glacius/Aria
Favorite KI Music Track?
Aria then second is Aganos.
What got you into playing Killer Instinct?
I played the very first KI and loved it. I wanted a sequel for years.
What got you into the tournament scene of KI?
I started competing because i found myself really good in this game so I decided to travel with my friends.
How often do you practice, is it mostly online or offline with friends?
I practice mostly 2-5 hours everyday.
Any advice for upcoming players in KI?
My advice for up coming players is to just lab up EVERYTHING that gives you problems in the game. Make sure you know your Frame data but mostly have fun while learning.
What is your usual practice regimen like for a tournament?
Find out who's all going to each tournament then brea the match-ups down with my own character and your flaws.
You had one of the craziest comebacks in EVO history against MyGod in Top 8. What was going through your mind during that round?
Honestly I Don't know really I just didn't want to lost too this guy again since he's the one that put me in losers bracket. So I told myself I can still win this and to not panic while staying focused.
[youtube id="NQs8NjzQZIY"]
What did you think of the reaction from everyone afterwards?
That I was a KI GOD.
How was your KI Cup Experience? 
KI Cup was amazing. I hope it's bigger and better next year!
Are you excited about Season 3, any characters you'd like to see or features in the game? I saw you were pretty excited about Arbiter over social media, fan of the Halo series?
I AM VERY EXCITED for S3 and I'm looking forward to Arbiter the most.
---
Discuss the interview here: http://forums.www.ultra-combo.com/t/killer-insight-darnell-sleep-waller/5866http://forums.www.ultra-combo.com/t/killer-insight-darnell-sleep-waller/5866