Killer Insight is Back! We hope you enjoyed the holidays. We're kicking off 2016 with Brandon Alexander, founder and the man behind one of the year's biggest KI tournaments, the Killer Instinct World Cup tournament Finals.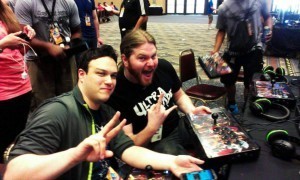 Name and Tag?
I just go by Brandon Alexander, though some people do call me Odin or Odinson.
Where are you from?
Right now, I am based out of Texas! I do plan to move back to Seattle or Norway sometime in the future.
KI tournament history?
I've been going to tournaments for KI since day one. Season 1: Final Round, Texas Showdown, Upper Cut Championships, and EVO. Season 2: K.i.T, Final Round, Texas Showdown, Absolute Battle 6, CEO, and EVO!
To be honest, since my involvement with KI is making it my main focus to grow the scene, I have had little time to play. I do plan on coming out of retirement once Season 3 hits!
Favorite Character in the game?
I think everyone knows this answer! Fulgore! This Character actually got me through some of the hardest times of my life growing up. The experience I have had with KI growing up is one of the main reasons why I support KI the way I do.
Favorite KI Music Track? 
Every track is AMAZING except for Riptor's.
What got you into playing Killer Instinct?
Well, I was playing MK at one of our local arcades and, after pumping in $6 of my lunch money. I heard this hideous thing from the front of the arcade go "Coming To Your Home In 1995 Only On Nintendo Ultra 64"! Then it suddenly switched to this amazing music from the character select screen! It was so loud! I went over to see what the madness was about. I walked up from the right side of the cab to find the owner of the arcade playing it. It was Killer Instinct and he picked Fulgore! When I heard the announcer say "FULGORE" it was like a chill went down my spine! I was like "That's my guy"! I jumped on player two side, pumped in a quarter and picked Fulgore! The rest was history. I grew up in arcades soI didn't have a home console until the N64, I tried it on home consoles and it lacked the same experience I got from the actual arcade game.
Tell us a little bit about Ultra Arcade? What exactly is it, how did it get started, how long in business?
Ultra Arcade is an arcade located in San Antonio, TX! It opened on Feb 15, 2014, inspired by the launch of KI! We have a good amount of classic arcade cabs and console cab setups for our weekly events! We also have pretty God-like bubble tea! Man! We are hitting our 2 year anniversary! That should be exciting! Ultra Arcade started with my friend David Rubin and I! We met through a close friend of ours, Matt Castro, who met David through www.killerinstinctonline.net! Matt would throw tournaments and gatherings every Friday! Dave showed up and was amazed with the turnout! Dave had no clue about the competitive scene! He was stoked and wanted to get involved immediately! First thing that came to Dave's mind was that he wanted to throw a big event! Matt Castro told him in the creepiest voice ever. "You need to talk to Brandon". I mean this is exactly what David told me.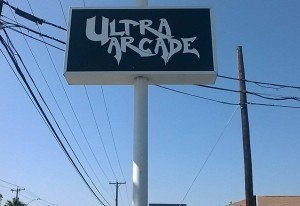 Anyways, Dave and I finally met, we immediately clicked, and started brain storming ideas! We decided instead of dropping a ton of money on an event that we would open a base of operation to get peoples hands on KI and help grow our local scene! Thus Ultra Arcade was born.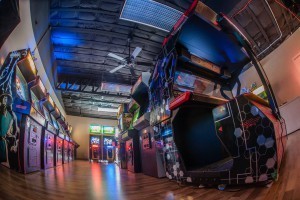 Have you organized tournaments before Ultra Arcade or competed in any?
Yes! I've organized many events before Ultra. I can honestly say I put together the biggest events in San Antonio for fighting games! The first big event I put together was called Revolution in 2010.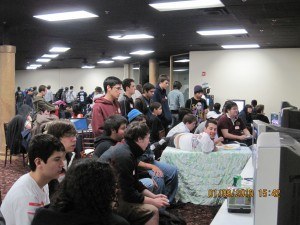 That event was an awesome experience! So many people came out and loved the event! The other events I hosted were weekly's called "Subway Fight Night"! Yes! In a Subway restaurant! Of course, we eventually out grew that place.
Take a look for yourself! lol
As far as competing myself!? Of course! My local arcade and game stores held tournaments all the time! My first tournament was an UMK3 tournament in 1996! I got bodied, FREE! Needless to say I took that loss pretty hard so I went to the arcade as much as possible to train for the next event! After a long month of practicing & over $400 of my mother's money, I entered and got first place! I won a $10 Coupon for pizza and a demo of Hanson's – "MMMBop". It was the worst thing I have EVER heard! The rest was history!
You've sponsored quite a few players with the UA moniker. Tell us about that experience for you as a Sponsor and the opportunities you've helped create for players.
It's been amazing! The team has been doing exceptionally well in Killer Instinct and in MKX! It's also helped our brand on so many different levels and inspired our local scene to become better players!
So the KI CUP has gained amazing support from the community and Microsoft, what inspired you to create the event?
Well, I noticed the tournament numbers at Majors were insanely low. As a person who dreamed about KI having a competitive scene, this was quite disheartening for Dave and me. I looked at what Capcom was doing with the Capcom Pro Tour and saw the good it had done for Street Fighter. I was inspired to do the same thing for our game and created the KI World Cup!
Is this your first live major event based around a single game?
It is!
Why KI over the others out there as your choice for your first major event of this caliber?
Well because it's the BEST. KI & its community deserve it. Fulgore.
As a fellow event organizer that understands the devotion it takes to put on an event like this, what has been the hardest part of putting KI Cup together from scratch? What do you look forward to the most about the event.
I would say getting events sanctioned, getting money together for event cost, and putting together the international Kombo Klash events.
Are you excited about Season 3?
Absolutely! More characters, stages, accessories, a PC port with Cross-Play and Cross Buy, Combo Assist, events, and much more! How could you not be excited!
Any characters you'd like to see or features in the game?
Guest Characters:
From the beginning I was like "If I could have a guest character in KI, it would be Rash from Battletoads". That happened, and I lost my mind when it did! Iron Galaxy hit it out of the park with that one! As far as another one. I would honestly want Spawn. I think he would do great things for the game!
Standard S3 Characters:
The amazing thing about KI is that it is THE ONLY fighting game I have ever played that has encouraged me to play other characters. I am a character loyalist! With that said, I am excited for everything that is KI Season 3! TUSK! TUSK! TUSK! 😉
Features:
Combo Assist which just released! This mode is a fun and easy way for anyone new to fighting games to get into KI! It is completely harmless to the seasoned competitors and an amazing way to build a foundation for KI!
Thanks for the interview and best of luck with last minute preparations for KI Cup.
I would like to just take time to thank some people.
First off, I'd like to Thank my friend and brother David Ruben who has had my back since the beginning.
To my lovely girlfriend Nadia, who has been supporting me through this entire KI World Cup Process and the Journey that is Ultra Arcade!
To Adam "Keits" Heart, & Richard "The Hadou" Thiher for the guidance and endless support! I have learned so much this year because of you both!
To DJames Goddard, & Adam Isgreen for the guidance, all you have done for KI World Cup, and for making sure KI gets the love it deserves!
To Alex Jebailey.. You.. lol. For taking me under your wing at CEO and showing me what an amazing event looks like! CEO was amazing & I'll never miss it again!
To Phil Spencer for making KI a thing again, Season 3 & leading Xbox in the right direction!!
To everyone at Iron Galaxy & Microsoft Studios for the endless support!
And to the KI Community for supporting the game and supporting us during this first year of the KI World Cup!
---
Discuss the Brandon Alexander Interview here: http://forums.www.ultra-combo.com/t/killer-insight-brandon-alexander/3838