Hello KI Fans,
Many of you have been playing the Shadow Lords Preview for the past month and I want to thank everyone for playing this crazy experiment. (Rogue-like meets story mode…whaaa?)  It's cool and honestly terrifying to let players try something that isn't completely finished. It's the developer equivalent of designing with no pants on.  For those of us that can read, we've been scouring the forums, watching streams, and analyzing data to make the best mode we can. Luckily we found out that most of us could indeed read, as it turns out. Anyway, you'll be able to see just how much better the mode turned out on 9/20, when Shadow Lords launches for free!
9/20… FREE
9/20… STILL FREE
9/20…. YUP FREE….
Get the point? While we pull pieces off of our makeshift Advent Calendars to count down to launch day (it's sooo close), lets pass some time by walking you, my closest of friends, through some of the bigger and cooler enhancements and improvements we've made as a result of all the community feedback we've received. It's been so hard to keep quiet.
BUFFS BUFFS BUFFS! Guardians have gotten a power upgrade! – Every Guardian has been given damage and defensive buffs as Secondary Abilities! These are represented by their DMG and DEF rating. BUFFS!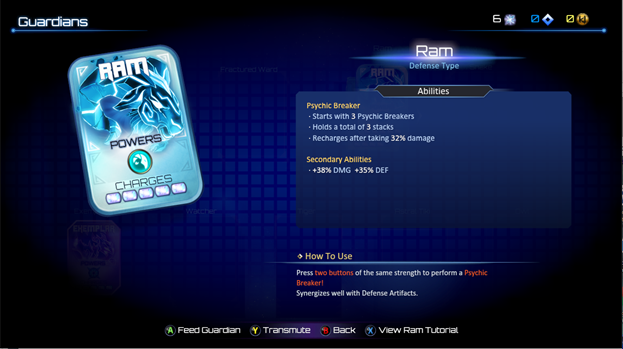 Those of you with astute eyes probably also noticed the "View Ram Tutorial" option up there. We have some fancy new ALL-NEW Guardian Tutorial videos that unlock when you get a new class of Guardian! Hopefully it helps all of you out there still trying to tame that Exemplar…
Now onto the feature I'm most excited about: The ALL-NEW Guardian ANNOUNCER! Now when you activate your Guardian, you'll hear the Guardian announcer call out its power along with a HUD notification in that classic KI font– it's awesome. I literally have it looped 24/7 on my 2-year old Beats headphones. There is a different call out for each one.  Here's two of them:
The Exemplar Guardian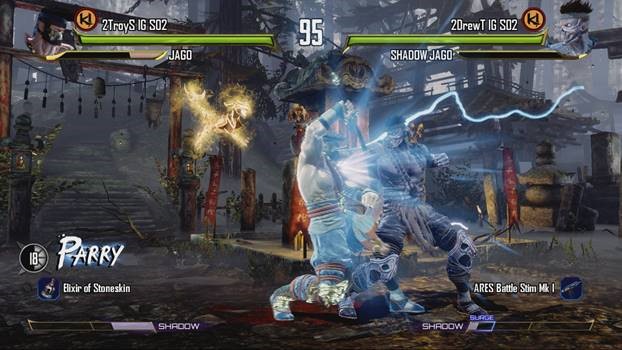 And of course, my personal favorite, the Fractured Ward! Guess what his power is…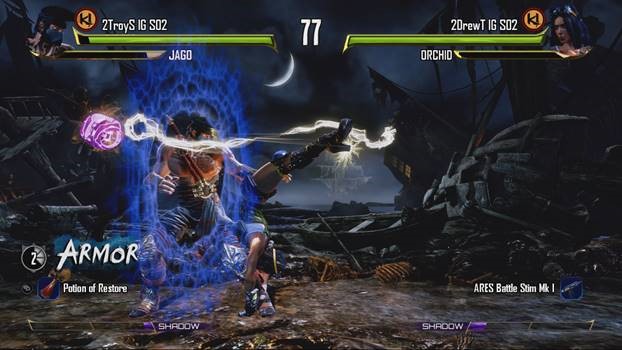 Also, to those of you who have Vampire Bat Guardians are in for a special all new HUD treatment to show the draining and gaining of energy but I'll leave you to see that one on your own… 😉  Ok, onto other parts of the game……
Daily Rewards has been updated to make it easier to understand and as you can see, the Multiplayer Rewards have been added!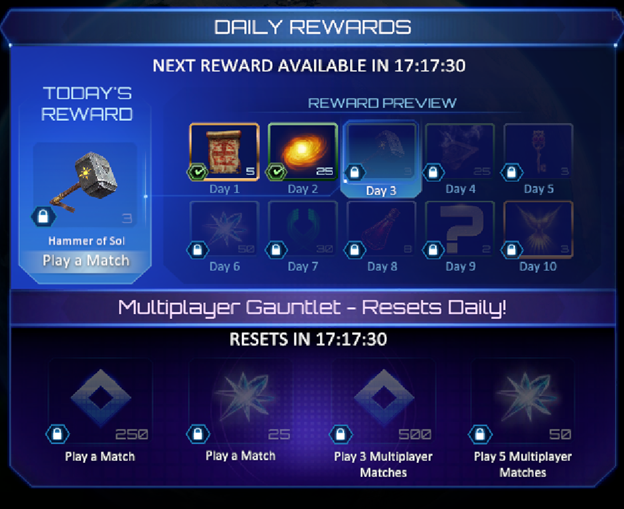 The question I get most often these days is how to unlock those delicious Mimic Skins.  Today's the day you get that answer… You can find the unlock criteria for each character in the Archives Menu (shown below). Notice the super-discreet "Go here to Unlock Mimic Skins." Designers, right? Anyway, select a character and you'll see their content along with the special criteria. (By the way, fans of the mode probably have noticed that we've added way more unlockables.)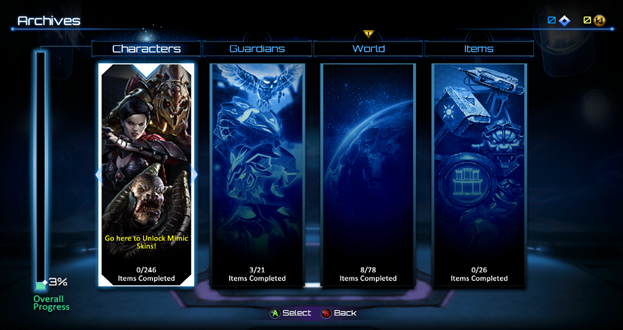 As you can see, in a strange turn of events, it turns out that you unlock Mimic Skins by defeating Mimics! The magic unlock number is different for each character. You can also accelerate this progress by getting 5 Mimic kill credits by defeating Gargos!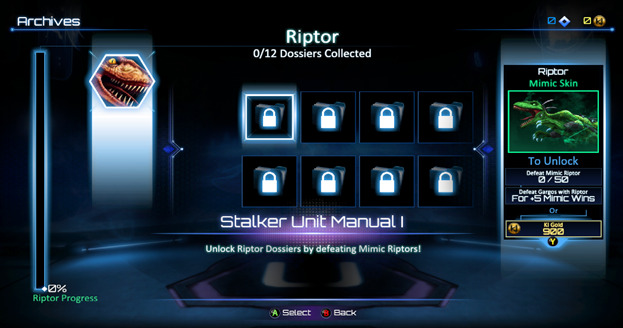 You ALSO unlock SOME Mimic Skins by ONLY defeating Gargos….
Once unlocked, Mimic Skins can be selected and applied to your character in Character Select!
Onto the ALL-NEW WAR ROOM. We've learned so much from reading forum posts and we've made some really big (and small) adjustments.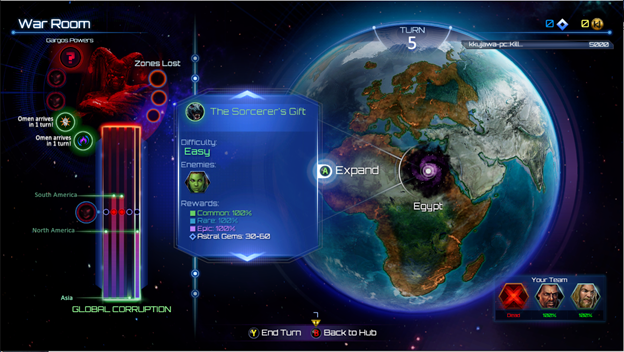 ALL NEW CORRUPTION METER!  – We moved this to the left to make it easier to see as you select your missions.  Left, schmeft. We should have done it earlier, since we read left to right. Duh! Oh well, it's better now. Each bar now highlights corresponding to the mission region that you select.  You probably also notice that the Gargos strike board has been made clearer.
ALL NEW IN-GAME SCOREBOARD! – Now you earn points throughout the game for the missions you complete, number of enemies you defeat, how many buffs you remove from Gargos, how quickly you beat Gargos, and other surprising things! IN 3.5 we will update this to show your friend's high score in game! More on this how this feature ties this mode together later in the Textual Stream…so mysterious I am.
IMPROVED MISSION SELECTION – Many of you wanted to make it easier to see identify the region for the mission, character quest chains and their required characters, and Mimics vs Non-Mimics (this will help you hunt Mimics to unlock Mimic Skins.) so we did it. We really did it! Rejoice!
IMPROVED LOADOUT – Minor improvements here, such as making Difficulty more obvious (weird, you actually want to make it easier to understand how hard something is…) , and some meat-and-potatoes layout changes. Notice that we now have green icons for Mimics. That should help you hunt 'em down!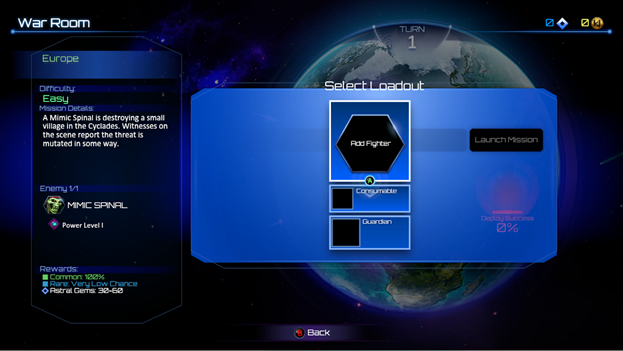 Story matters, and as such we have added a few new scenes, more quests, and improved the Quest engine. Some changes are subtle, others aren't. And we're not done there. Shadow Lords is a living mode, and you'll want to check in often. You never know what might pop-up.
And finally… one big piece to tie it all together…
THE ALL-NEW ENDGAME SCREEN! – Remember that score widget I pointed out in the War Room? Here's where it's all tallied up. Depending on the score you earn, you are awarded one valuable item that you can use to help you in your next playthrough!  Good luck on figuring out the right balance to maximize score. We've seen some wild stuff in testing. I bet you all go even more bananas. Post pictures on the forums! Tweet at me (@kranged), James Goddard (@djamesgoddard) and Isaac Torres (@delriach) and let us know whatcha got. No photoshoppin'! (Filters OK, tho.)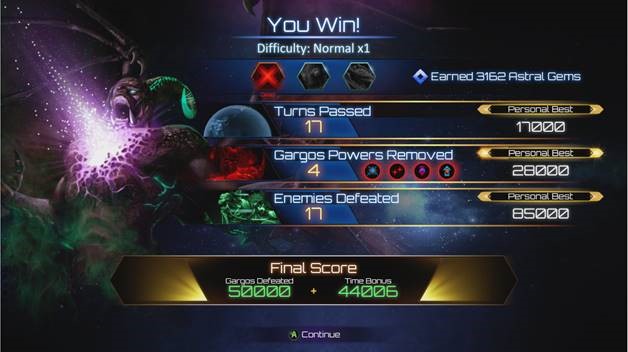 (Above) – Gargos Time Bonus calculation, and (Below) Final Score and Bonus Reward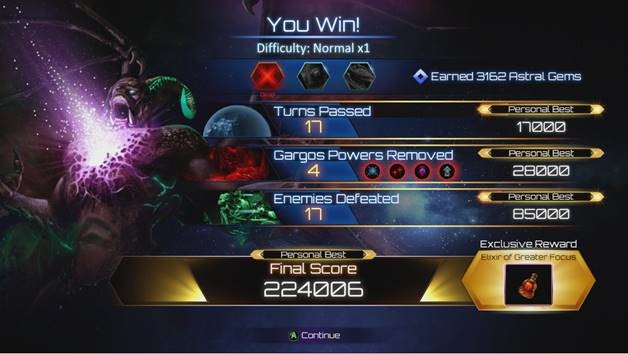 Once you crush it with your final score, you can compare it to your friends on this nifty new Shadow Lords Single Player Leaderboard! Names blocked out to protect the innocent… (not me, in other words)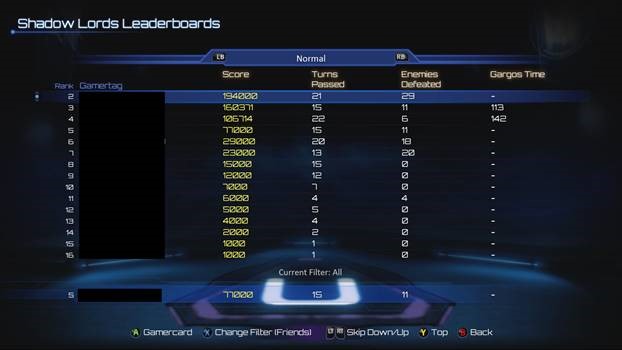 And last, but not least.. there's one last change.. The Vampire Bat is getting a powerful overhaul. Instead of randomly switching whether it drains from Health, Instinct or Shadow, it now drains ALL THREE SIMULTANEOUSLY. Somehow he does that with only two fangs. He's special!
NEXT UP: A bonus Shadow Lords MULTIPLAYER and more Textual Stream! –  Frankly, this part of the mode deserves its own focused post. Launch is on 9/20, so we'll have it up soon. Stay tuned for ramblings about that.
Thanks everyone – this mode has been in the works for a long time, and our team has put so much work into it. More than me, I'm just typing about it. It's been really fun having the preview out there and having everyone help us steer it to where it is today. Please keep the feedback coming, and keep on playing!
Thanks
Kraig
---
Discuss: http://forums.www.ultra-combo.com/t/shadow-lords-launch-no-seriously/14686